Hosting Services: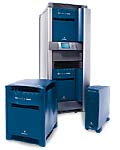 In the world of web hosting things can get fairly complicated for the average consumer. At BCG Canada Inc. we use our own private data centre to offer a very simple, straght-forward answer to all your hosting needs.

All of our hosting accounts enjoy an extremely stable and effecient environment offerred at one of three prices. If your site does not require the use of an on-line database the monthly hosting charge is $30 per month, if you require the use of a database the monthly hosting fee is $50 and finally if you are in need of an ecommerce solution, this solution is oferred for $75 per month.



Please refer to the table below for details of each option.
Professional Hosting Solutions

Hosting Features

Professional

Database

E-Commerce

Free Host Account Set-Up

Free Domain Name Management

Unlimited email accounts

Unlimited pages, images, hits, etc.

Unlimited Transfer Bandwidth *

"Webalizer" On-line Usage Reporting

Daily Tape Back-Ups

MySQL Database

PHP Scripting Interface Support

Secured Server Hosting (SSL)

Verisign Security Certificate - Shared

Monthly Hosting Fee

$30

$50

$75

Notes:
* Transfer rates of high end video may be an exception.
** BCG Canada Inc. does not host inappropriate web sites (as deemed by us) and reserves the right to adjust any of our hosting details including prices at any time.
*** Domain Name Registration services are the responsibility of the domain owner.

For details regarding any of the hosting features listed for further information regarding our professional hosting solutions please contact hosting@bcgcanada.com.