Professional REMOTE Data Back Up Solutions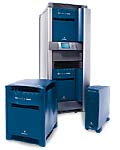 Our data back up and recovery service is a complete solution allowing our clients the ability to have remote data backup and data storage within our fire-protected, secure data facility.
The scheduled back up routine is customized & configured to back up the data you wish to have protected based on your requirements. The data back up is performed by creating a virtual private network (VPN) between your remote computer or network and our tape backup server located in our secure data centre. A VPN utilizes an encrypted connection over an un-trusted network, the Internet.

The connection is encrypted using the same encryption technology that is used when you bank on the Internet (SSL/TLS protocol).
Features of our Professional Remote Data Back Up Service:
Your data is encrypted using a Virtual Private Network (VPN)
The computer process runs in the background, unattended on your end (after hours)
Your data is securely stored on high-quality data tape in our fire protected, secure facility
Both full and incremental (just changed data) backups are available
Backup files are verified to be complete and recoverable
Clients do not have to perform any back ups on site
Clients are ensured to have all recent data professionally backed up on a regular basis
Your computer processing power and storage space is not wasted on data back up
Weekly full backups, daily incremental backups free CD monthly archive of stored data
Priority assistance in the event of data recovery or disaster recovery
All tapes & files are available to you at anytime from our office
Details of our Professional Remote Data Back Up Service:
1 - 50 Mega Bytes of data backed up $75 per month
51 - 100 Mega Bytes of data backed up $100 per month
101 - 200 Mega Bytes of data backed up $200 per month
$250 one-time set up fee
Client computers require a Windows operating system of at least Windows 2000
Client computer environment must include a high-speed Internet connection
Professional Solutions For Your Valuable Computer Data